Caption Goes Here
the sportsbook
About
The sportsbook you've been craving is here - and it's about to change the game day scene forever. At Plainridge Park Casino's new Sportsbook Bar & Restaurant, every play is intensified by pure adrenaline. With a massive 49-foot video wall delivering action in crystal clarity, you'll feel like you're on the field surrounded by giants. Our jumbotron is unmatched, the largest indoor restaurant display in all New England!
Hours
RESTAURANT HOURS
Saturday: Noon - 11 pm
Sunday: Noon - 11 pm
Monday: 5 pm - 11 pm
Tuesday: 5 pm - 11 pm
Wednesday: 5 pm - 11 pm
Thursday: 5 pm - 11pm

Friday: Noon - 11pm
*Limited seating. Dine-in only. No reservations at this time.
SPORTSBOOK WRITER HOURS
MONDAY - FRIDAY - 11AM - MIDNIGHT
SATURDAY - SUNDAY - 9AM - MIDNIGHT
Menu
Satisfy cravings with fan-favorite shareables! Pile on the loaded tots, cheese, and fried appetizers. Go big on nachos and platters decked out with all the essentials - mozzarella sticks, cheese curds, pickles, onion rings, and more. Get your fix of smoky burnt ends brisket on a stick and dig into these tasty plates alongside fellow fans!
Caption Goes Here
Crowd Pleasing Plates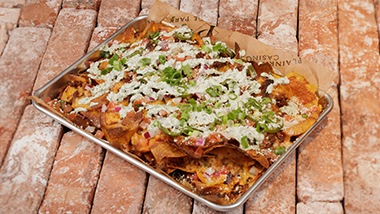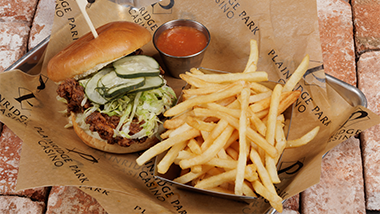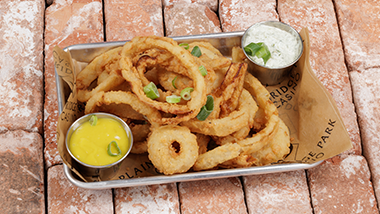 Caption Goes Here
ultimate fan experience
brand new sportsbook, bar & restaraunt
Not just a spot made for viewing, this is a high-energy sports headquarters pulsing with the infectious vibe of die-hard fandom. Local brews flow freely as cheers ring out for electrifying plays. Signature game day dishes and cocktails take flavors to the next level.

Place your bets with lightning speed at our state-of-the-art kiosks. We're taking sportsbook experiences into overtime, sending chills down your spine with every point scored. From heart-stopping goals to buzzer-beating shots, feel the intensity soar through the roof.

Football, basketball, hockey, MMA - follow the action wherever your passion lies. At our sportsbook, fans unite for the love of the game. Take your fandom into legendary status here at The Sportsbook at Plainridge Park Casino!

Caption Goes Here
The Sportsbook
bet on any sport
Place bets on a variety of sports, including football, basketball, hockey, soccer, baseball, golf, tennis, auto racing, rugby, cycling, boxing, MMA, and cricket. Different types of wagers offered include straight bets, parlays, match-ups, futures, props, and in-play betting options.
SPORTSBOOK WRITER HOURS
MONDAY - FRIDAY • 11AM - MIDNIGHT
SATURDAY - SUNDAY • 9AM - MIDNIGHT